By W:. Ronald J. Seifried, DSA
Photos by Brother Drew MacCallum
A brief discussion, ten minutes of preparation, and a surprise opera performance in a Long Island Masonic lodge was a night the attendees will not soon forget.
On Monday, March 9, 2020, Jephtha Lodge No. 494 in Huntington was visited by M:.W:. William Sardone, Grand Master of Masons in the State of New York and 121 Brothers, Triangle sisters and guests on an unseasonably comfortable late winter evening. Informally invited by Senior Warden Anthony Colonna, the only available date on the Grand Master's busy schedule happened to land on the day after Jephtha Lodge's largest fundraiser, the annual St. Patrick's Day party.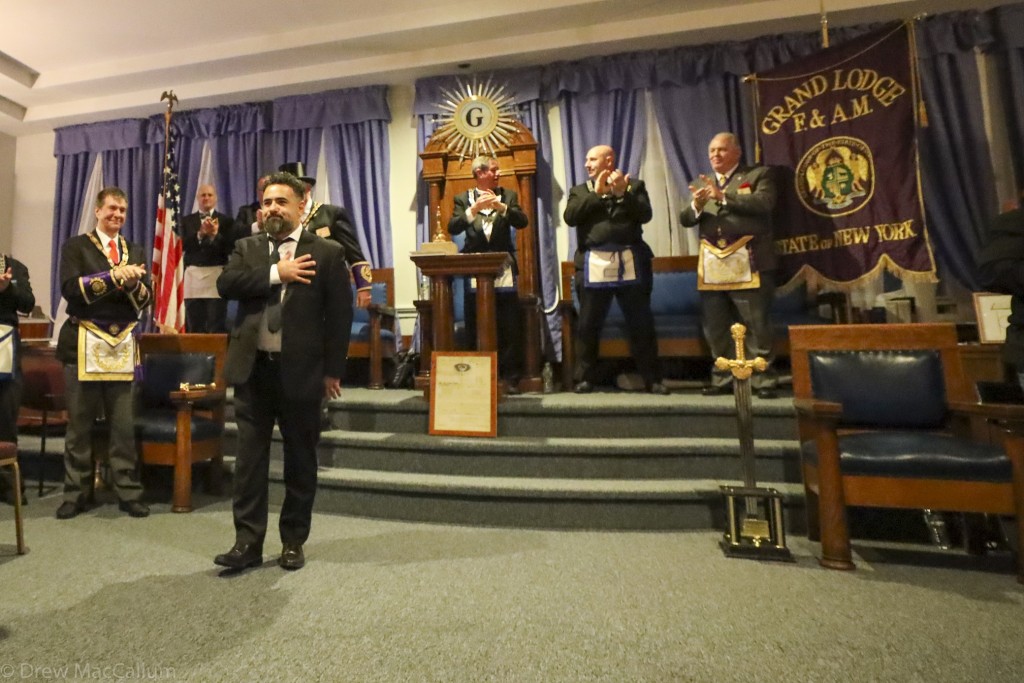 The normal three days of preparation was heightened by converting from the traditional Irish dish of corn beef, carrots and cabbage on Sunday, to a gourmet menu including filet mignon, spicy crab cakes, shrimp on skillets, mashed potatoes and asparagus less than 24 hours later. Led by Jephtha Chef Emeritus Geoff Cohen, two teams of assistant cooks manned the lodge kitchen on an average of twelve hours a day over three days to prepare meals for up to 400 people with the two events. The headcount kept growing with more surprise guests entering the lodge the night of the Grand Master's visit, when Brother Cohen had to increase the number of dishes to prepare from 90 to the final total of 122 guests.
The scheduled Stated Communication was opened and closed to allow non-Mason guests to attend the Grand Master's visit in the third-floor lodge room. Guests included Senior Advisor of the Organization of Triangles Jennifer Wainwright, Junior Deputy of Truth Triangle No. 31 Deborah Wainwright Schulbaum, a petitioner for Jephtha and future member of the DeMolay.
The evening started with a brief lecture on the history of Freemasons in Huntington by W:. Ronald Seifried DSA, lodge Historian and Trustee. Tracing masonic Long Island history from Huntington No. 26 A.Y.M. in the late 18th century, the talk included some amusing connections between Jephtha and the raising of Brother Theodore Roosevelt in 1901, and Brother Franklin D. Roosevelt visit to Jephtha in 1931. At the conclusion of the lecture, Brother Seifried requested to approach the east to present the Grand Master with the first edition of his new book, "Long Island Freemasons," one month before official publication. The Grand Master quickly pulled out a pen from his jacket and requested an autograph.
Sicilian-born Brother Jonathan Cilia Faro of Garibaldi Lodge No. 542 then gave a surprise opera performance that brought some to tears and at its conclusion, the packed lodge room rose in unison with enthusiastic cheers and shouts of "Bravo!" Singing "Nessun Dorma," from the final act of Giacomo Puccini's opera "Turandot," the English translation of "let no one sleep," is one of the best-known tenor arias in all of opera. Brother Faro gave the performance in honor of W:. Salvatore Tagliavia of Garibaldi Lodge No. 542.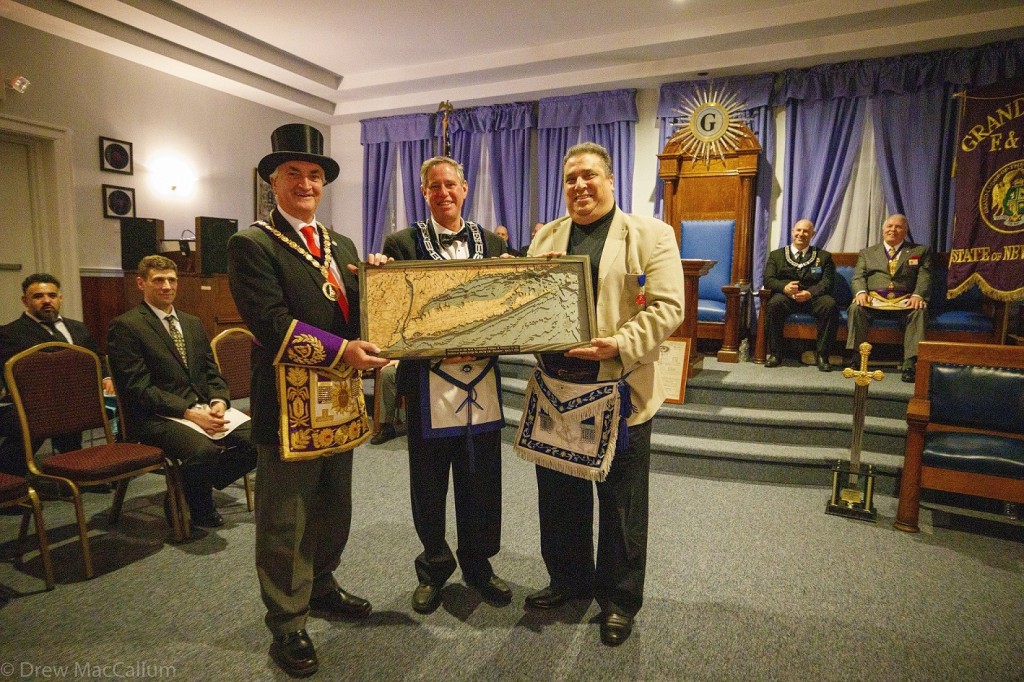 Ritual Director W:. Robert Previto presented a beautiful, wood carved map of Long Island to the Grand Master on behalf of the Jephtha in appreciation for the night's visit. W:. Stuart Smith of Smithtown No. 1127 gave a brief talk on how his lodge obtained three vintage chairs from Grand Lodge as part of the Grand Master's fundraising program. At the conclusion of the evening Babylon Lodge No.793 captured the Suffolk Masonic District Traveling Gavel, barely surpassing Suffolk Lodge No. 60 by one brother to claim the friendly prize. W:. Richard Harris was emotionally overwhelmed over one the best nights of his two-year term as Worshipful Master. A truly magnificent evening worthy of remembrance of the archives of Jephtha No. 494 storied 160-year history.
Tags:
Freemason
Huntington
Jonathan Cilia Faro
Organization of Triangles
William Sardone