My Dear Brothers,
I am both humbled and honored after attending the DSA award given to our Brother, W:. John B Lentinello, for all he has done for Masonry and mankind. He shows what being a Mason is truly about by being the best possible human being a person can be.
This reminds me of the how the building of King Solomon's beautiful Temple to God was built – in Reverent Silence, in which the operative Masons had the material cut and measured outside the worksite, a remarkable testimony to the engineering and construction skills of the ancients. (And the house, when it was building, was built of stone made ready before it was brought thither: so that there was neither hammer nor axe nor any tool of iron heard in the house while it was in building. I Kings 6:7)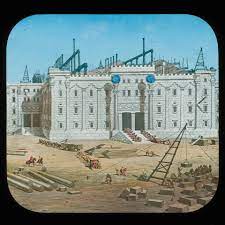 We speculative Masons always apply this same philosophy when building our Temples for the betterment of ourselves and mankind. Our off-site measuring and cutting of materials can be the hours of studying and practicing required to hold a successful degree for our Brethren. Nothing is said on how this is accomplished, no bragging, no "See what I did!", just materials being cut and measured off-site. There is nothing more beautiful than one day having nothing and, without knowing it, a beautiful Temple in Silence is constructed. So it has always been with W:. Lentinello while taking care of his beloved veterans
Fall is approaching and it's time to move away from summer pleasures and welcome fall. On October 2nd we will have Jephtha's visit to the Renaissance Faire. My brothers, this is definitely a fun time since we get to spend the weekend with our Brethren and their families, and dress in medieval costumes while visiting shops and seeing amazing shows. it's a reasonably priced way of enjoying the Middle ages.
Our Monthly Stated communication is October 11th, and on October 23rd we have our Traditional Cemetery cleanup. What better way to segue into Halloween than with a cemetery cleanup!
We will be meeting again on October 25th with special guest visitors from the Masonic Medical Research Institute; we will learn about their research and the hope they bring to mankind.
We will have our Octoberfest at the Lodge on October 30th to which our partners are invited. This is always a fun time where we can once again show our wives the brotherhood we have with each other and our partners forming a bond and a sisterhood themselves.
Halloween and trick or treat, what can be more fun for a child then receiving bags filled with candy, wearing costumes and trying to scare you? Please enjoy this day, and if your children try to scare you, act like they did!
In the spirit of Halloween, I wish all the Brotherly ghosts of Jephtha Lodge, (you know the ones I always see) a great Halloween. Even though they are my Brothers, and I could not ask for any better spirts to visit me, I still get terrified.
Always remember, no matter the length of your cable tow, what you give to Masonry is always silently building that Temple from within.
Sincerely and Fraternally,
Michael S. Crispino, Jr
Senior Warden
Tags:
Freemason
Jephtha Lodge
Senior Warden Message
Stated Communication