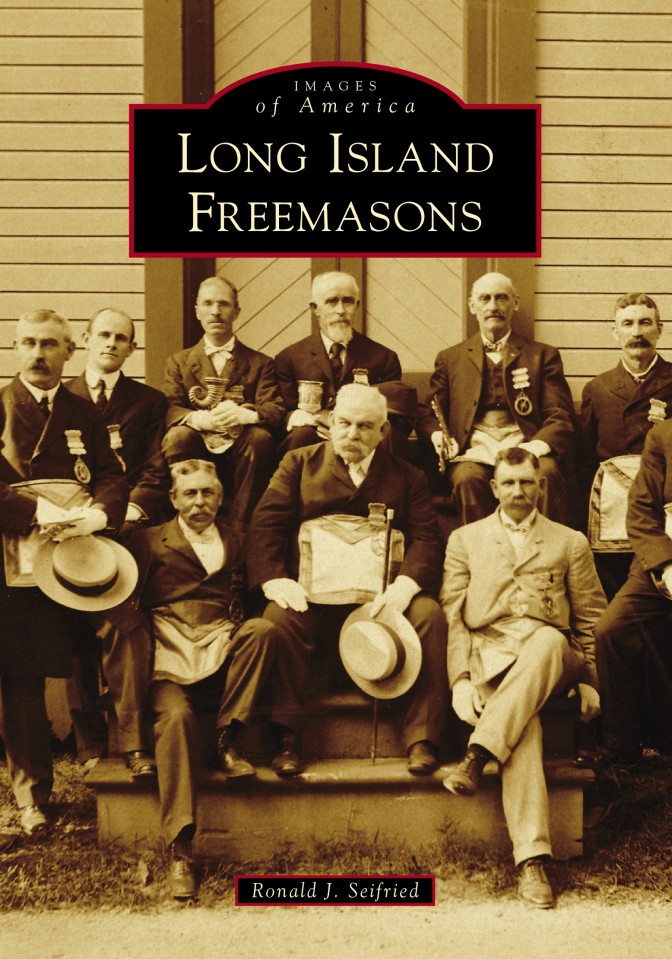 LONG ISLAND FREEMASONS
Arcadia Publishing has a catalog of over 12,000 regional titles since 1993. This new release by W:. Ronald Seifried, DSA, Past Master of Jephtha No. 494 F. & A.M., will include 264 black & white pictures and 59 color pictures, chronicling the history of Freemasonry on Long Island. From the early years of Long Island Freemasonry in the 1790's to contemporary photos of lost artifacts, this publication catalogs the bygone era prior to the formation of the Nassau and Suffolk Masonic Districts up to its mid-20th century renaissance.
The first Masonic lodge in what is today Nassau and Suffolk Counties was constituted in 1793. For over 200 years, more than 70 lodges were founded and flourished in various locations from Amagansett to Great Neck. For the first time, some of the secrets of the Masonic fraternity are revealed in this book. Recovered from dusty lodge attics and closets, this selection of long-forgotten photographs and artifacts gives the readers a brief glimpse of what was taking place behind the closed doors of their local lodge. Long Island was the Masonic home of Theodore Roosevelt of Oyster Bay and, 30 years later, was honored by a visit to the Huntington Masonic lodge by his fifth cousin and fellow Mason Franklin D. Roosevelt. Masons continue to support the community through charitable endeavors, including the Masonic Medical Research Institute, Masonic Safety Identification Programs, Shriners Hospitals, and many more.
Author Ronald J. Seifried was first introduced into Masonry by his mentor in 2003. Elected as master of his lodge, the author is a member of several Masonic concordant bodies, including the Royal Arch, Cryptic Council, and Scottish Rite, and is a recipient of the Dedicated Service Award. As historian and trustee of his home lodge, he is responsible for the conservation and maintenance of the historic lodge building and its artifacts.
Publication Date: April 2020 / $25 per copy, with proceeds going to Masonic charities.
Pay via PayPal for pickup at the lodge ($25):
Pay via PayPal with $5 shipping ($30):

Reserve your copy now! Checks payable to "Jephtha Lodge No. 494 F.& A.M." or pay via Paypal. Copies to be available at Jephtha Lodge, Spring 2020. Additional shipping charges may apply for Brothers living out of the area.