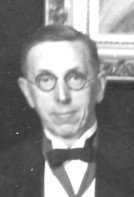 Kurt J. Galow (1881-1967)
Worshipful Master: 1923
Masonic Career: Became a Freemason at Jephtha No. 494 F. & A. M. in 1902. Senior Warden, 1922. Obtained the title Right Worshipful when he was appointed Grand Sword Bearer of Masons in New York in 1951. Trustee at Jephtha No. 494, 1936-1943. Illustrious Master of Suffolk Council No. 76, Royal and Select Masters, 1942.
Residence: Gibson Avenue, Huntington, NY
Occupation: Painting Contractor. Inherited family business of S.W. Galow and Son. Huntington Town Building Inspector.
Bio: Born and died in Huntington, NY. Parents-Frederick and Paulina Galow. Daughter-Florence G. Smith. Granddaughter-Diane L. Johnston. Member of Huntington Rotary Club. Interred in Huntington Rural Cemetery.